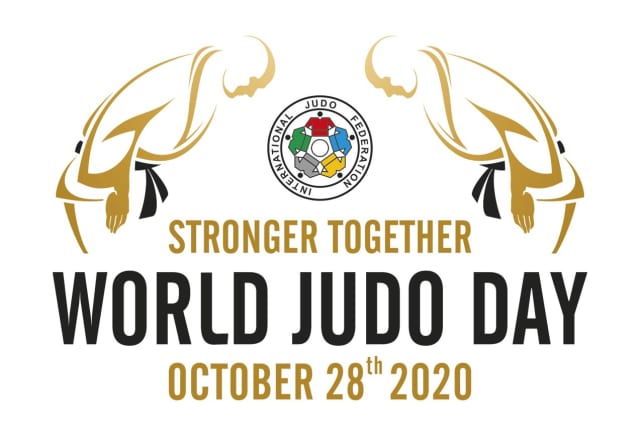 The theme for this years World Judo Day is "Stronger Together".  Picked as a result of the impacts of Covid to the Judo community.  Doing things together makes not only our Club stronger, but also the general community.  During the celebration of this years event, take some time to think about how you can help your fellow judoka and other general members of our community. Remember words become concrete, make sure yours count.
The theme for World Judo Day 2016 is Judo for All. This theme was demonstrated at the recent London Olympic games where 387 athletes from 135 nations competed in Judo. The third highest of all sports. 20 countries, including Portugal, Ukraine, Luxemburg and Azerbaijan chose judoka as their flag bearers, demonstrating what a mainstream sport judo is across the world.
London Olympic competitors included two women judoka from Afghanistan and Saudi Arabia. Saudi Arabian, Wodjan Ali Seraj Abdulrahim Shahrkhani, aged 16, was able to compete after Saudi Arabia's Olympic Committee reached an agreement with the International Judo Federation (IJF)  allowing Shaherkani to compete in her hijab. The president of the Saudi Arabian Judo Federation, Hani Kamal, said "The hijab should not be a barrier to participating in sport."  Shaherkani was also the second youngest Judo competitor. Sally Raguib from Djibouti who is seven months younger being the youngest. Juan Postigos representing Peru and Winston Gordon of Great Britain were the oldest Judo competitors at 40 years old.
Judo also boasted the largest athlete at the London 2012 Olympics. Ricardo Blas Junior, competing for Guam. Ricardo is the heaviest competitor in the history of modern Olympics weighing 218 kg and standing 1.85 meters tall, he is known as 'The Little Mountain'. Ricardo also competed in Beijing four years ago, where he carried the flag at the opening ceremony for Guam. The women's under 48kg division most likely included some of the lightest athletes competing at the Olympics.
Judo is the only martial art at the Paralympic Games. Men's competition was introduced at the Seoul 1988 Paralympic Games, with women's competition added in Athens 2004. In London 2012 Paralympic Games, 132 athletes (84 men, 48 women) competed in judo across thirteen medal events. 
The 2016 Rio Olympics saw a total of seven judoka from Australia competing across their weight divisions.
However, you don't have to want to be an Olympian to learn Judo. Judo is one of the fastest growing individual sports in the world with over 13 million participants. People learn Judo for a variety of reasons including self-defence, improved co-ordination, strength, general fitness and, above all, fun.